Work has now been competed on the Corinda Library refurbishment project. Please drop in and visit our wonderful community library.
The official launch will be held at the Library on Thursday, 4 February 2016 at 10am followed by morning tea.  Celebrations will commence with the Children's Storytime at 9:30am and continue into a Gardening Workshop which will be held at 10:45am.
The renovations include:
– new internally and externally accessible toilets (toilets will be open Monday to Saturday)
– new computer station and computers
– new quiet reading room
– new furniture inc. seating and tables
– new blade shelving technology to check in books more quickly
– new carpets and walls.
I had hoped funds would be allocated for a rear extension to the building for an activities space to host Library and Community events. However, only enough for a refurbishment was provided; not an extension. I will keep campaigning for this longer-term upgrade. The work looks great so check it out and support our local library.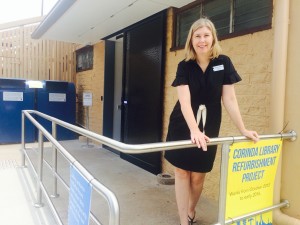 ---
Great news! The $800,000 Corinda Library upgrade is being fast tracked with work now underway and due to be completed by the end of January.
The library will remain open during the refurbishment but there may be some disruptions. While the upgrade will be a significant boost for our community, I had hoped it would include a new extension to expand the  library building. I will have to keep fighting for this and longer opening hours!
Annually 72,000 people visit Corinda each year and borrow a huge 145,511 books per year.
For a copy of the plans, please click the link below: